A Fast, Duplex, and Reliable Sheetfed Scanner

Complete your scan with a simple press
The AV188 is a compact, high-speed color duplex scanner. Designed to scan both documents up to legal size and plastic ID cards, the AV188 can be used to capture all the information you need in a fast and reliable performance.

The scanner's straight paper path provides smooth and reliable paper transmit and less document jam. It also ensures thicker paper up to 400 g/m2 and embossed plastic cards up to 1.25mm can be transmitted smoothly.
With the 50-page auto document feeder, the AV188 offers fast scan rate up to 40 pages per minute for single-sided documents and 80 images per minute for double-sided documents at 200 dpi in either black and white or color mode.
Advanced Friction Roller and Paperweight Enhances Paper Separation and Feeding Reliability
Designed with the innovative friction roller and paperweight for advanced paper separation, the AV188 delivers outstanding feeding reliability by effectively reducing the risk of a multi-feed or paper jam for a wider variety of scanning situations.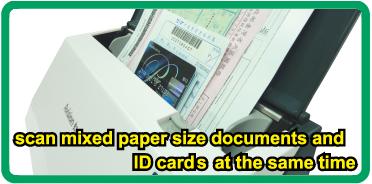 Earth-Friendly LED Technology
The AV188 delivers high throughput and outstanding performance. However, it is earth-friendly at the same time. The LED technology requires no warm up time and is lower power consumption without generating mercury vapor as other traditional scanners using the CCFL (cold cathode fluorescent lamp) technology.
Ultrasonic Multi-Feed Detection
With the built-in ultrasonic multi-feed detection capability, the scanner allows you to set overlapped paper by detecting paper thickness between documents. When multi-feed is detected a warning message will be prompted.
Powerful bundled software applications
The AV188 come with TWAIN and ISIS drivers, and are bundled with a suite of powerful software applications that include Avision Button Manager, AvScan , and PaperPort SE 14. With Button Manager, you can create searchable PDFs, scan and send images to e-mail, printer, or other destinations with just a simple press of a button. The AVScan and PaperPort are highly effective image processing and document management software that helps you streamline your task more efficiently.
Features
●

Scans double-sided color documents up to legal size
● Fast scan rate up to 40 pages per minute and 80 images per minute at 200 dpi in color, gray, or B&W mode
● Fast scan rate up to 30 pages per minute and 60 images per minute at 300 dpi in color, gray, or B&W mode
● Friction roller technology delivers outstanding feeding reliability
● "Paperweight" is introduced in TWAIN interface to make document feeding more smoothly
● Ultrasonic multi-feed detection
● Earth-friendly LED technology
● Compact auto document feeder holds documents up to 50 pages
● Easy-to-use button scanning
● Supports 118" (300cm ) long page scanning
AV188
General Specification
Technology
Color Charged-CoupledDevice (CCD)
Light Source
LED
Document feeding mode
Auto Document Feeder (ADF)
Optical Resolution (dpi)
600
Halftone Patterns
Dither and Error Diffusion
Grayscale mode
16bits input 8bits output
Color mode
48bits input 24bits output
Memory Size
256MB SDRAM
Dimensions (WxDxH)
305 x 162 x 195 mm ( 12 x 6.4 x 7.7 in )
Weight
3.85 Kg (8.5 lbs)
Interface
USB 2.0
Power Consumption
Operation: < 25 W
standby: < 11 W
Power saving: < 2.9 W
Acoustical Noise
Operation: < 50 dB
standby: < 45 dB
Recommended Daily Volume
Up to 4,000 sheets
OS Support
WinXP/Vista/Win7/Win8
Bundled Software
ISIS driver, TWAIN driver, Button Manager , AVScan , PaperPort 14 SE
Options
Linux driver
Features
Ultrasonic paper jam detection
Yes
Long Paper Mode
118 inch (300 dpi @ color simplex)
Card Scan
Embossed card (Thickness 1.25mm)
Scan Size
ADF Minimum
74 x 52 mm ( 2.9 x 2 in)
ADF Maximum
216 x 356 mm ( 8.5 x 14 in )
ADF Capacity
50 sheets
Paper Thickness and Weight
28 ~ 400 g/m² ( 7 to 110 lb )**
Scanning Speed
B/W @ 200dpi, A4
Simplex : 40 PPM
Duplex : 80 IPM
B/W @ 300dpi, A4
Simplex : 30 PPM
Duplex : 60 IPM
Color @ 200dpi, A4
Simplex : 40 PPM
Duplex : 80 IPM
Color @ 300dpi, A4
Simplex : 30 PPM
Duplex : 60 IPM
Shipping Cost:
Calculated at Checkout
Sorry, there are no reviews for this product yet.